433(4)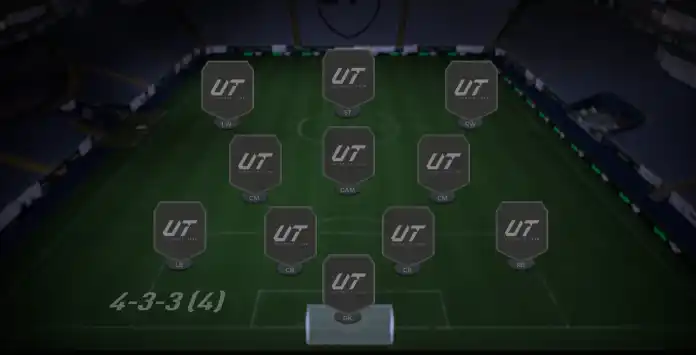 This is one of the most attacking of all FUT formations. 433 (4) Attack is a variant of 433 that turns one of the midfielders into an attacking midfielder to support the front three.
▲ Suitable for those who want a very attacking formation.
▲ The closeness and the balance of the six men from the front allow safe passing game between them.
▲ Chance of fast attacks on the wings.
▼ Too attacking formation for most of the players.
▼ Huge empty space between midfield and the defence.
Pos
Att WR
Def WR
Important Attributes
RB
M
H
Pac
Def
CB R
L
H
Def
Phy
CB L
M
H
Pac
Def
LB
M
H
Pac
Def
CM R
M
M
Pas
Def
CAM
H
M
Pas
Dri
CM L
L
H
Def
Phy
RW
H
M
Pac
Pas
LW
H
M
Pac
Pas
ST
H
L
Sho
Phy
Key Player
CM | CM's must have great stamina. They will hold their runs so you're not leaving your back four completely exposed.
Play Styles
Wide areas are a crucial part of the success criteria for this formation. Again, focus play initially through the central areas before distributing to wider players. Also suits a counter-attacking style of play.
How to Use this Formation
A more attacking variation of the 433, this formation utilizes a CAM just ahead of both the wide CM's and offers more support for the lone ST. It is more suitable for users who like to go on the offensive more often and not only offers attacking options from either wing but also through the middle via the CAM. Although you may find success offensively with the 433 (4) Attack, you will have to time your tackles and make sure you don't become overrun when the opponent is countering.
How to Counter this Formation
This formation is based on fast-paced, quick passing and tons of goals, lacking in creative and tactical skills. It prides itself in a system of triangles and great support from the midfield up to the front line. With the right formation that contains the 433, you can easily pressure the opponent's goal because there is no protection for the backline.
Formations you should use to beat this one (by descending order):
4231, 442, 4141, 3421.