Wembley Stadium
90000 seats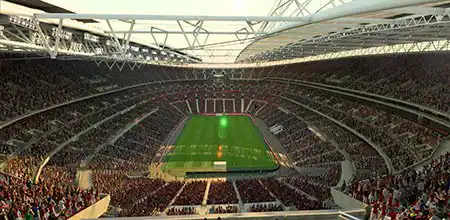 Official Stadium Name
Wembley Stadium
Former Names
Alternative Names
Wembley Stadium connected by EE
Inauguration Date
19/03/2007
Opening Game
Chelsea 1-0 Manchester United
Opening Game Date
19/03/2007
Attendance Record
89874
Record Match
Cardiff City 2-1 Portsmouth
Record Date
17/05/2008
Renovations
Design
HOK Sport
Foster and Partners
Cost
£789 million
Owner
The Football Association
Operator
Wembley National Stadium Limited
Tenants
England National Team (2007-present)
Tottenham Hotspur (2017-2019)
League

No items found

Pitch Dimension
105x68 meters
Surface
Desso GrassMaster
Stadium History
England's largest stadium was born in pain (2003-2007) – delivered over 4 years behind initial plans, with costs doubling the early estimates. The general contractor and investors ended up in court, many events had to be cancelled.
The seating is divided into 3 tiers, middle one of which is dedicated solely to business clients on long-term contracts. This scheme helped finance the venue itself and now strongly contributes to the profits, but has also earned some criticism from media and fans. This kind of layout divides regular fans and separates them, making it hard to produce a proper atmosphere.
Most characteristic feature of the ground is of course the 133-metre steel arch, which is to an icon of the ground, just like it was with the two towers of its predecessor. At night the arch is lighted up and can be seen from many kilometers.