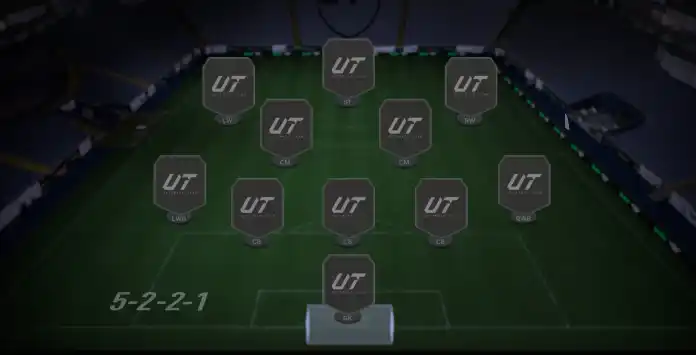 One of FUT formations with fewer players. 5221 is similar to 5212 but with 1 up top supported by a left and right forward on either side.
▲ Strong defence with space for wing backs to run into.
▲ One of the best formations for who likes to play in counter-attack.
▼ Can be narrow attacking wise limiting options.
▼ It depends too much on CAM so he must be really good.
Pos
Att WR
Def WR
Important Attributes
CB R
L
H
Def
Phy
CB C
L
H
Def
Phy
CB L
M
H
Pac
Def
RWB
H
H
Pac
Dri
LWB
H
H
Pac
Dri
CM R
M
M
Pas
Vis
CM L
H
H
Sta
Def
RW
H
M
Pac
Sho
LW
H
M
Pac
Dri
ST
H
L
Sho
Phy
Key Player
RWB/LWB | RWB and LWB have a huge responsibility to provide swift counter-attacks but also provide necessary support for the 3 CB's in defence. You need quick, athletic players in these positions with high work rates if you are to make this formation as lethal as it can be.
Play Styles
A brilliant counter-attacking formation if utilized correctly with custom tactics. Also great for pressuring teams high up the pitch with ultra attacking tactics selected.
How to Use this Formation
In this formation, you will have 5 defenders including 3 central defenders (CB) one of them is a sweeper and 2 wide full-backs acting as wing-backs, who will be helping the midfielders and strikers on attacks -, especially on counter-attacks. The wing-backs will be required to get up each flank in order to support attacks and also fulfill their defensive responsibilities. Much of the play will go through the middle and the CAM will have to pull the strings and be a creative spark. This is a very solid formation defensively, as long as the LWB and RWB fill in when they can.
How to Counter this Formation
With a strong backline of defenders, and two well-rounded centre midfielders, you will invite a lot of pressure from your opponent; however, with the back 5, it won't be an issue. Even if you suck at defending on FIFA, having five bodies, six if you include the keeper, the defender becomes easy enough. To counter this formation, just put many players in the midfield.
Formations you should use to beat this one (by descending order):
4411, 4231, 433, 352.