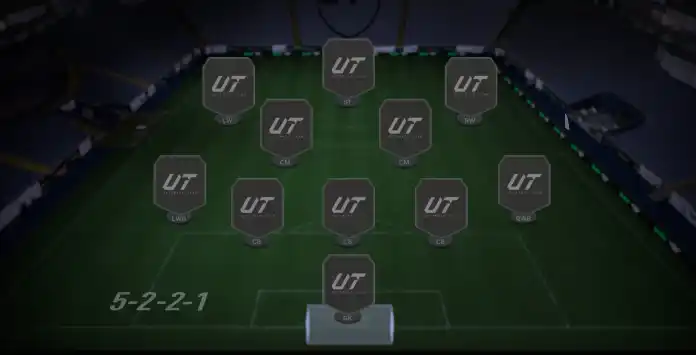 5212 is a formation not used by many players. It's similar to 5221 but with two ST with a more creative CAM option.
▲ Strong defence with space for wing backs to run into.
▲ The best formation for who likes to play in counter-attack.
▼ Can be narrow attacking wise limiting options.
▼ It depends too much on CAM so he must be really good.
Pos
Att WR
Def WR
Important Attributes
CB R
L
H
Def
Phy
CB C
L
H
Def
Phy
CB L
M
H
Pac
Def
RWB
M
M
Pac
Dri
LWB
M
M
Pac
Dri
CM R
M
M
Pas
Vis
CM L
H
H
Sta
Def
CF
H
M
Pas
Sho
ST R
H
M
Sho
Phy
ST L
M
L
Sho
Pac
Key Player
CAM | Pick a CAM with a medium/high defensive work rate as well as a high attacking work rate and they're going to be a real asset to your team. If they can drop in to help the 2 CM's but also work forward to find space in behind the two ST's then you're going to have a very difficult CAM to contain.
Play Styles
Defensive set-up with strong possibilities for counter attacking.
How to Use this Formation
In this formation, you will have 5 defenders including 3 central defenders (CB) one of them is a sweeper and 2 wide full-backs acting as wing-backs, who will be helping the midfielders and strikers on attacks -, especially on counter-attacks. The wing-backs will be required to get up each flank in order to support attacks and also fulfill their defensive responsibilities. Much of the play will go through the middle and the CAM will have to pull the strings and be a creative spark. This is a very solid formation defensively, as long as the LWB and RWB fill in when they can.
How to Counter this Formation
This formation plays similar to the 41212(2) and the 352. This allows for passing options at almost any time of the game. If you want to play narrow through the central midfield, it allows that. If you want to spread your opponent's defense out and play wide, it can also do that. Sometimes the best thing to do is to counter with the same weapons.
Formations you should use to beat this one (by descending order):
5212, 5221, 442, 433.