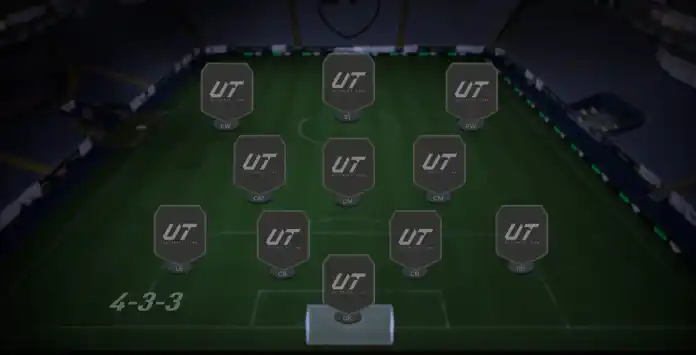 433 Flat is one of the most famous FUT formations. Earned greater notoriety for having been adopted by Guardiola.
▲ The closeness and the balance of the six men from the front allow safe passing game between them.
▲ Chance of fast attacks on the wings.
▼ Only one ST may be insufficient.
▼ Insufficient players that help the back four.
Pos
Att WR
Def WR
Important Attributes
RB
M
H
Pac
De
CB R
L
H
Def
Phy
CB L
M
H
Pac
Def
LB
M
H
Pac
Def
CM R
H
M
Pac
Dri
CM C
L
H
Pas
Def
CM L
H
M
Pac
Dri
RW
H
L
Pas
Pac
LW
H
L
Pas
Pac
ST
H
L
Sho
Phy
Key Player
CDM | In this set-up, it is vital that the 3 midfielders are all comfortable on the ball but also have a bit of steel about them to win the ball back. If you have 3 attacking CM's then the likelihood of you getting overrun at the back becomes a high possibility. Choose these 3 players wisely and build your team around them.
Play Styles
Wide areas are a crucial part of the success criteria for this formation. Again, focus play initially through the CM areas before distributing to wider players. Also suits a counter-attacking style of play.
How to Use this Formation
433 Flat is considered as a safe attacking formation where you have three attackers and a flat defensive line. This formation utilizes wingers and allows them to play right up close to the touchline. The 433 is fantastic for those players who prefer to make use of crossing the ball from these positions. You are not limited to this style of play however, the wide players also have the option of cutting in and causing problems, particularly if their strong foot is on the opposite side to the wing that they are playing on.
How to Counter this Formation
Unlike the other listed 4-3-3 alternatives, the 3 CMs try to contain the ball and distribute effectively. This formation begs the help of the RB and LB. This is rarely used in online gameplay because there is so much space to get around the midfield – play the ball wide or behind the midfielders. Overlapping complete backs can be exploited quite easily. Possessing a lot of players in the attacking third will cause this formation a lot of trouble. Try to have more midfielders to make your job even easier.
Formations you should use to beat this one (by descending order):
451, 4411, 3421, 352.