The Amex Stadium
30666 seats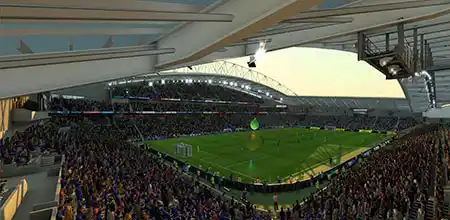 Official Stadium Name
The Amex Stadium
Former Names
Alternative Names
Falmer Stadium
American Express Community Stadium
AmEx Stadium
The AmEx
Inauguration Date
11/07/2011
Opening Game
Brighton 2-0 Eastbourne Borough
Opening Game Date
11/07/2011
Attendance Record
30582
Record Match
Brighton 0-1 Liverpool
Record Date
12/01/2019
Renovations
2012-2013
Design
KSS Design Group
Cost
£93 million
Owner
The Community Stadium Limited
Operator
Brighton & Hove Albion
Tenants
Brighton & Hove Albion (2011-present)
League

Premier League

Pitch Dimension
105x68 meters
Surface
Grass
Stadium History
The Seagulls" had to leave their Goldstone Ground in 1997, two years after the club sold the ground. They had no alternative venue in Brighton, so were playing 75km away in Gillingham. Though attempts to build a new home stadium started back in the 1990's, no success came for a decade. Supporters were running several large-scale campaigns that even got the prime minister involved, but for years procedural issues and opposition held the project back.
Finally at the end of 2008 construction works started on site and finished in early June 2011. The result was American Express Community Stadium, as it's called for sponsorship reasons. But since no-one really cares to say the whole name, it's more often called AmEx Stadium or simply The AmEx. There also are some more traditional supporters who refuse to acknowledge the name, still calling it Falmer Stadium, as was the name during planning and construction.
If demand is high, corners may be filled and current stands may also receive a second tier to give a capacity of 35,000. Which proved needed as already during construction it turned out that the planned 2,109 business seats was too little and another 400 were made. By mid-2013 stands had to grow further, reaching 30,750.